The Ultimate Handsets for In-House Mobile Voice and Messaging
Today's mobile workers depend on communication tools that accommodate flexible workspaces and allow free roaming wherever they are: in the office, or outside of it. NEC offers a wide variety of handsets to suit every professional need. Whether you need a rugged phone for potentially demanding environments or an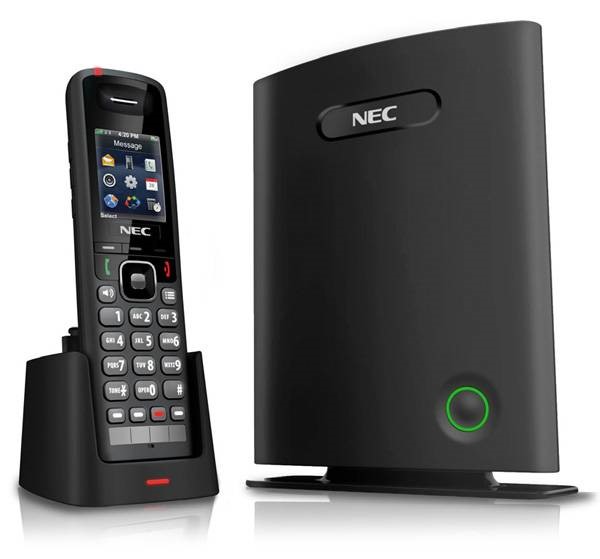 extremely sophisticated smart IP handset with a full range of features, we have the appropriate solution for your business.
Wide range of powerful business mobility handsets
All of our DECT handsets offer excellent voice communication: crystal clear speech, loudspeaker and hands free support, seamless handover and roaming, high security with DECT authentication, and seamless integration with SV9000 communication servers. Applications include central directory, presence, text and alarm messaging and location detection.
These telephones give your employees flexible, easy and secure communications as they roam about your company's premises, while providing most of the features and functionality of a desktop phone. They come with mobile enhancements such as text messaging, alarming, programmable keys, and integration with third party applications.
SMB Wireless (ML440) IP DECT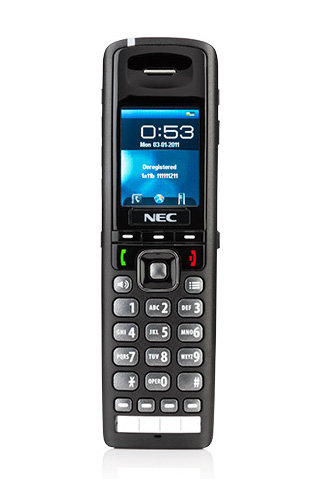 Increasing productivity through on-site mobility. NEC's SMB Wireless (ML440) IP DECT phone is the perfect solution for small to medium-sized businesses that seek an on-site mobile phone that can help employees make more informed decisions much more quickly.
SMB Wireless offers supreme flexibility, in that keys on the handset's base allow users to program multiple lines and functions into the phone. Its compact, ergonomic design makes the SMB Wireless handset comfortable to use. Its seamless handover between access points ensures employees will never miss a call while away from their desks.
Some of the features of the SMB Wireless are:
Delivers true on-site mobility that improves efficiency and productivity
Provides a cost-effective in-building wireless solution built on proven technology
A large, full-color illuminated graphic display and icon-based menu for ease-of-use
Provides a powerful web-based management tool that simplifies administration
For hands-free operation, a speakerphone with excellent sound quality
Powerful encryption of calls that protects against interference and eavesdropping
Up to 20 hours of talk time and 220 hours of stand-by time
Automated call logging
Access to one's business contact directory
Programmable keys that enable multiple lines
Silent Vibrator Mode
External Headset Support
Polyphonic Ringtones
100 Contacts Personal Phonebook Directory
Over the Air Synchronization and Software Upgrade
Contact us for expert advice on Bussiness Desktop Phones. We proudly serve Evansville, IN, and the surrounding area.
For more information call Midwest Telecom today at 812.421.0111.